The NEW School Rules is for every leader who wants to effectively make change and create environments of growth, excitement, and passion.
---
Registration for this event has closed.
We invite you to apply to join our Virtual New School Rules (NSR) Leadership Cohort (previously The New School Rules Leadership Institute). Based on the best selling book, The NEW School Rules: 6 Vital Practices For Thriving and Responsive Schools, the Institute provides an opportunity to learn directly from a team of experts in change management, organizational design, and leadership. The Institute also offers the unique space to grow your leadership practice, while learning and collaborating with school and district leaders from around the country through a virtual cohort model.
The Institute is designed for education leaders who want to improve how their teams collaborate, make decisions, and achieve their goals. We know there is a better way for school and district teams to meet, function, and make decisions, and that the changes we make to processes can lead to better academic results, greater teacher retention, and more thriving school systems.
The Experience
This Institute will focus on the six rules we have found make the biggest difference in changing the way work happens in teams, schools, and districts.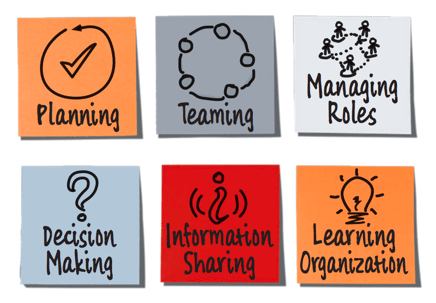 These rules are based on more than seven years of research and our work with more than 750 schools and districts. We'll provide an overview of the six rules, examples of how schools and districts have used the rules to become more effective, and opportunities for you to practice the rules and plan how to take them back to your own teams. By the end of the cohort, you will have a new schema for thinking about at how work gets done in your organization and the capability to bring this new way of thinking back to your teams in a way that builds deep engagement and lasting change.
The Cohort includes:
A personal, copy of The New School Rules book sent to you
Highly interactive activities to help you learn about and practice the six rules
A self-assessment and leadership style quiz
Free access to all activities, experiments, and workouts so you can use with your own teams
8 weeks of training starting at 9:00 a.m EST

Sept 17th: Introduction to Responsive Organization Design (2 hours)
Sept 24th: Responsive Learning and Development (1.5 hours)
Oct 1: Responsive Planning (1.5 hours)
Oct 8th: Cohort Chat (1 hour)
Oct 15th: Responsive Meetings (1.5 hours)
Oct 22nd Responsive Projects and Engagement (1.5 hours)
Oct 29th: Planning Time - Individual Support (2 hours)
Nov 1st: Cohort Chat (1 hour)
You will leave this training with:
Deep understanding of organizational design, change management, and six new school rules
Clear assessment of the areas you and your teams need support with in order to be more effective and responsive
Completed self-assessments, readings, reflections, experiments, and workouts to deeply understand and practice each rule
Plan to implement the rules in your own teams to make lasting change
Networking with other leaders and districts
Registration
There is limited space available, so please reserve your ticket early. We encourage teams to attend together. Therefore, we are offering a discount for teams who register 5 or more attendees.
Registration for this event has closed.