Subscribe
Live Your Values
Organizational Leadership & Change Management | Strategic Planning
In Rule #1 Planning: Plan for Change, Not Perfection Alexis and Anthony articulate the importance of a clear purpose to help drive the actions and decisions of individuals and teams in an organization. As they've written, "We need to stick vigilantly to our purpose, not the plans we make to get us there."
We kicked off a consulting team retreat this July by reflecting on our purpose, personal and professional. We considered: 1) Which values are most important to us? 2) Why do we do the work we do? 3) How do we live or not live our values day to day? This team reflection aligned closely with the questions I asked myself during a family vacation in Oregon earlier this summer.
Real Life: Not living my values
Although they've changed a bit over time, my core values for most of my adult life have been:
Love

Laughter

Generosity

Presence

Gratitude

Clarity

Optimism

Innovation

Hard Work

Acceptance
I try my best to live these values every day, but found them in conflict when I was in Oregon visiting my family earlier this month. Even though I highly value being present and showing love for others, I was often distracted by work during in-person moments with my parents. I interrupted a lunch with my mom to take a work call with a colleague. I spent my last hour with my dad on a video conference with a client. I missed car conversation time with my fiancé to check email. Coming back from vacation I'm disappointed in myself for failing to live these values. And so this week I'm reflecting on how to better reflect on and live my values every day. In starting this process, I found the below visual helpful.
Visualize:
Living your values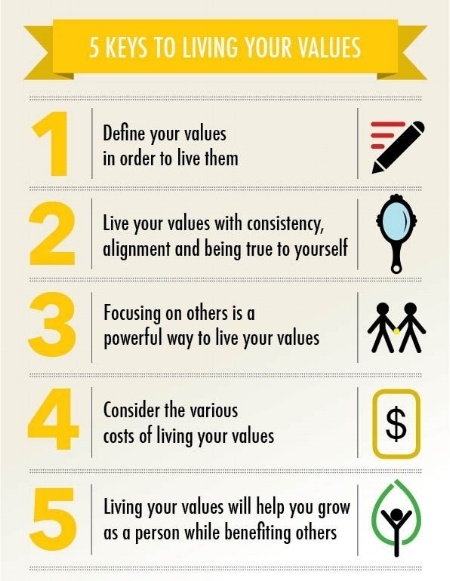 Image courtesy of Awaken Group
Use It: Reflect and act
Ready to make a shift? I invite you to take these steps, which I will also be taking, to reflect on and improve how you're living your values.
Read

Lead True

by Jeff Thompson to reflect on how day to day decisions relate to values

Follow the

recommend actions steps

outlined by Anne Loehr in How To Live With Purpose

Join me in conversation anytime at

@kearaduggan
Join us at the NSR Leadership Institute in December for hands-on learning and collaboration on topics like change management, organization redesign, leadership development and more. Apply today!
This blog post was originally published on The KikiBrief.