Registration for our December 2018 event has closed.
Fill out the form to stay informed about our upcoming events!
The New School Rules (NSR) Leadership Institute is designed for education leaders who want to improve how their teams collaborate, make decisions, and achieve their goals. We know there is a better way for school and district teams to meet, function and make decisions, and that the changes we make to processes can lead to better academic results, greater teacher retention, and more thriving school systems.
Based on the best selling book, The NEW School Rules: 6 Vital Practices For Thriving and Responsive Schools, The Institute provides an opportunity to learn directly from author Anthony Kim and his team of experts in change management, organizational design, and leadership. The Institute also offers the unique space to grow your leadership practice, while learning and collaborating with school and district leaders from around the country who are thinking about the future design of schools and districts.
Who Attends the NSR Leadership Institute
The Institute is an invite-by-application event. The content of The NSR Leadership Institute is designed for school and district leaders, but we welcome all interested applicants to apply. We want to bring together a group of innovative education leaders who can support each other's learning during and beyond the Institute. We use applications to ensure that every single attendee who joins us will contribute to an engaging and transformative event. Please take 10-15 minutes to fill out the form on the right. Applications will be reviewed on a rolling basis. You will be notified of your status via email.
Registration
Accepted applicants will be notified by email. A registration link will be shared at the time of your acceptance. There will be limited space available, so if you are accepted, reserve your ticket early.
Early Bird Rate $700
Full Price: $850
---
The Experience
This Institute will focus on the six rules we have found make the biggest difference in changing the way work happens in teams, schools, and districts.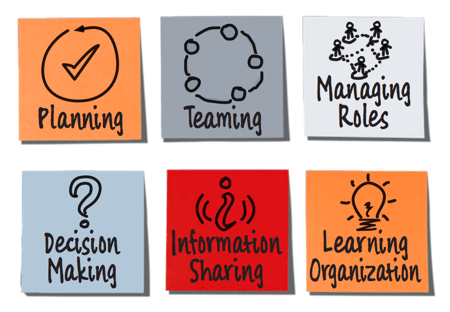 These rules are based on more than seven years of research and our work with more than 750 schools and districts. We'll provide an overview of the six rules, examples of how schools and districts have used the rules to become more effective, and opportunities for you to practice the rules and plan how to take them back to your own teams. By the end of the Institute, you will have a new schema for thinking about at how work gets done in your organization and the capability to bring this new way of thinking back to your teams in a way that builds deep engagement and lasting change.
The Institute includes
A personal, signed copy of The New School Rules book

2 full days of training, 8:30am-4:00pm, including lunch

Highly interactive activities to help you learn about and practice the six rules

A self-assessment and leadership style quiz

Free access to all activities, experiments, and workouts so you can use with your own teams
You will leave this two-day training with:
Deep understanding of organizational design, change management, and six new school rules

Clear assessment of the areas you and your teams need support with in order to be more effective and responsive

Completed self-assessments, readings, reflections, experiments, and workouts to deeply understand and practice each rule

Plan to implement the rules in your own teams to make lasting change
The Program
DAY 1
Opening + Community Building

The Changing Shape of Organizations

What is a Responsive Org

Responsive Learning + Development
DAY 2
Responsive Meetings

Responsive Projects

Integration + Planning

Sharing + Closing
What Attendees Said About the NSR Insights
About the Team
Learn more about the authors and facilitator.